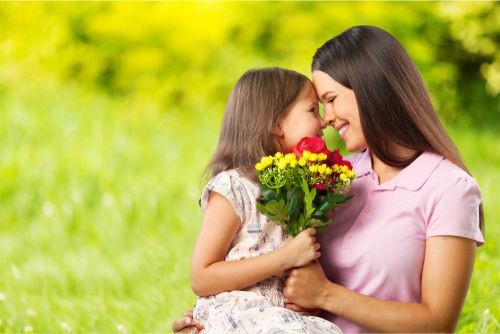 Mothers . . . . . there's no one else in the whole wide world who will love you the way a mom does. Seriously, who else would give up ever wearing a bikini again just to have you? Not to mention giving up sleep, friends, private time (when was the last time you remember peeing alone?) and learning to live life on the go without makeup, wearing yoga pants and sporting a messy bun. There's also a mom's endless tasks of having to
make meals, clean up messes (this includes toys, books, various food and drink sundries … throw up and poop), prepare snacks, pack a diaper bag as though you're going away for a week, trying to manage tantrums (not hers, the kids), tears (ok, some are hers), terrible twos, trying threes, headstrong fours, and then there's the teenage years to look forward to…. (WHO signed me up for this anyways???)
Moms also seem to have their own language and WAY of using words (call it a coping mechanism or maybe just code that only other moms can understand…). Like when a child is acting up, the more trouble the child is in, the LONGER his name gets when you're yelling at him (or using your 'bestest indoor voice' as politely as possible…!). We found some great Mom words and meanings below on mothersdaycelebration.com that we thought would make you smile. :)
Dumbwaiter: One who asks if the kids would care to order dessert.
Feedback: The inevitable result when the baby doesn't appreciate the strained carrots.
Full Name: What you call your child when you're mad at him.
Grandparents: The people who think your children are wonderful even though they're sure you're not raising them right.
Hearsay: What toddlers do when anyone mutters a dirty word.
Independent: How we want our children to be for as long as they do everything we say.
Puddle: A small body of water that draws other small bodies wearing dry shoes into it.
Show Off: A child who is more talented than yours.
Sterilize: What you do to your first baby's pacifier by boiling it, and to your last baby's pacifier by blowing on it and wiping it with saliva.
Top Bunk: Where you should never put a child wearing Superman jammies.
Two-Minute Warning: When the baby's face turns red and she begins to make those familiar-grunting noises.
Whodunit: None of the kids that live in your house.
But along with all the challenging times in raising our children . . . there are the jewels that make it all worthwhile. Things like little smiles and tears that melt your heart, a soft voice whispering "I wuv you mommy" as chubby little arms wrap around your neck., the laughter of a toddler, that very first smile, the first time your baby giggles, looking at the world through brand new eyes that brings a sense of wonder and joy back into a life you thought you were thoroughly familiar with…. Seeing your three year old passed out on the living room floor surrounded by toys, delicious slobbery little kisses, and much more! There are SO many joys that children bring into our lives, and as 'Mom' we get the privilege of having front row seats to it all, the laughter, the challenges the tears the pride, and the love.
To ALL our Mom's, we wish a "Happy Mother's Day" and hope that your day is filled with everything you want it to be! And ladies, let's make sure to let our own Mom's know how much we love and appreciate them too. Being a Mom isn't always easy, but it sure is worth it.


- "All that I am or ever hope to be, I owe to my angel mother." —Abraham Lincoln
- "My mother was the most beautiful woman I ever saw. All I am I owe to my mother. I attribute my success in life to the moral, intellectual and physical education I received from her." —George Washington
- "Motherhood: All love begins and ends there." —Robert Browning
- "Life began with waking up and loving my mother's face." —George Eliot
- "When you're in the thick of raising your kids by yourself, you tend to keep a running list of everything you think you're doing wrong. I recommend taking a lot of family pictures as evidence to the contrary." —Connie Schultz
- "Kids don't stay with you if you do it right. It's the one job where, the better you are, the more surely you won't be needed in the long run." —Barbara Kingsolver
- "Mothers and their children are in a category all their own. There's no bond so strong in the entire world. No love so instantaneous and forgiving." —Gail Tsukiyama
- "The best place to cry is on a mother's arms." —Jodi Picoult
- "Mother's love is bliss, is peace, it need not be acquired, it need not be deserved. If it is there, it is like a blessing; if it is not there it is as if all the beauty had gone out of life." —Erich Fromm
- "If I have done anything in life worth attention, I feel sure that I inherited the disposition from my mother." —Booker T. Washington
- "There's no way to be a perfect mother and a million ways to be a good one." —Jill Churchill
- "I realized when you look at your mother; you are looking at the purest love you will ever know." —Mitch Albom
- "I remember my mother's prayers and they have always followed me. They have clung to me all my life." —Abraham Lincoln
- "A mother is the truest friend we have, when trials heavy and sudden fall upon us; when adversity takes the place of prosperity; when friends desert us; when trouble thickens around us, still will she cling to us, and endeavor by her kind precepts and counsels to dissipate the clouds of darkness, and cause peace to return to our hearts." ―Washington Irving